We're hearing from Saltwater Nation citizens that the stripers are in all along Long Island and  Montauk, Anglers at North Port Harbor Sand City have been having success with worms for schoolies, but you might want to try bunker chunks, too, as the bigger fish seem to be taking them over the worms. Keep in mind, that fresh bunker will stay on the hook better than frozen, which tends to get mushy. Surfcasters have also been having luck with plugs, rubber baits, and bombers. For anglers working from boats, trolling parachute and umbrella rigs has been producing some good fish as has drifting bunker chunks  (look for fish outside Huntington Harbor, Eaton's Neck, and Cold Spring Harbor –we're hearing good things).
Out at Montauk, striper catches are being reported all the way to the elbow. Some boats are reporting limit catches, but several anglers we talked with are reporting that you have to catch a few shorts for every keeper you find. Most fish are being taken in the rips, but there's no question that they are in and the striper season is in full swing. So, get those tube lures, sand worms, and cut herring ready to go. Let's face it, if you're a striper fisherman, then you know that Montauk is the place all striper fishermen need to fish.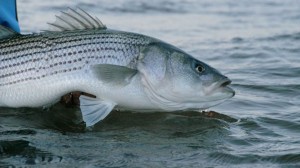 For more about striped bass in New York, be sure to check out The New York Department of Conservation web pages and, as always, make sure you know your New York State Recreational Saltwater regulations.  And for an incredible article about striper lures, check out Jimmy Fee's January 14, 2103 Field and Stream article "The 25 Best Striper Lures of All Time."
FISH ON!














Bunker Chunks, fish, Fishing, Long Island, Montauk, New York, striped bass, Striper, Surf Casting
---
---