Montauk Fishing Gear has been producing top-of-the-line tackle for the serious saltwater angler for more than twenty years. What's more is that they do so at affordable prices. Their offshore line of reels and lures have been rigorously tested in fishing environments ranging from Baja, California to the Florida Keys, to the legendary waters off of Montauk, New York.
Among the many great MTK products, this year, Montauk Fishing Gear has introduced the GLO-Get'em series of trolling lures.
The GLO-Get'em lures mimic a natural bioluminescence that occurs in many offshore forage baits like squid and bait fish. The glowing lures  add the advantage of an emitted light to the lure, a more dynamic light form that traditional reflective light materials. The GLO-Get'em, then become idea for night fishing, deep water trolling, and other low-light fishing conditions.
The GLO-Get'em lures require no battery or glow sticks. Instead, the lure materials themselves "charge" in sunlight or black light to create their embodied glow. The lures are designed with a 1-2 glow ratio, wherein 1 hour of sunlight charge then produces 2 hours of lure glow.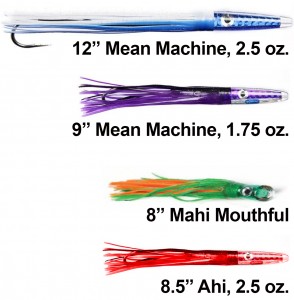 The Glo-Get'em comes in 2 sizes of the Montauk Mean Machine Series: 9 and 12 inch weighted, high-speed trolling lures; one size of the Mahi Mouthful Series: 8 inch; and one size of the Ahi Series: 7 inch skirted.
The GLO-Get'em is also available in Montauk's Katana Series daisy chains in 11, 12, 14, and 16 inchspreaders in both large and small sizes, as well as in a small 13+1 and large 11+1 spreader bar.
Having used Montauk's Katana spreader bars and daisy chains before, we're eager to try these new GLO-Get'em versions.

Check out the GLO-Get'em systems and all of Montauk's tackle at www.montaukfishinggear.com
This Inventive Fishing Product Introduction is for informational purposes only. Inventive Fishing has not field-tested the product addressed here and, thus, neither endorses nor criticizes the product. For critical reviews of specific products, please see Inventive Fishing's Gear Reviews and Tech Reviews. 
FISH ON!














fish, Fishing, Gear, Lures, Montauk Fishing Gear, Offshore, Tackle, Trolling
---
---