Bill Lewis Outdoors has again proven the aeonian eminence of the Rat-L-Trap line of lures with the introduction of the new saltwater edition of the Super Nova. Debuting at ICAST 2014, the Super Nova series (which is available in both fresh and saltwater versions) has been designed to up the ante in fish attracting features. The Super Nova uses extremely luminous inserts to produce fish-attracting light rays, flashes, and reflections. The increased visibility works in conjunction with Rat-L-Trap's legendary Liv-N-Sound rattling to make the Super Nova remarkably attractive to predatory fish.
Unlike many lures which reflect light from the surface of the lure, the Super Nova's light reflection emits from inside the lure body. Thus, even when the lure's surface has been scarred by multiple strikes, the lure does not lose any of its reflective qualities. Named for phenomena of an exploding star, the Super Nova Rat-L-Trap is engineered to make the most of light reflection to incite bites.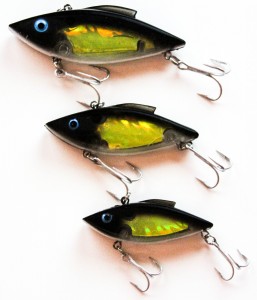 The new saltwater Super Nova features Mustad Triple Grip hooks. It comes in seven color variations and is available in 1/4, 1/2, and 3/4 ounce sizes.
Like all of the saltwater Rat-L-Traps, the Super Nova is designed for inshore fishing and is designed for fast retrieval. The Super Nova's hard-vibrating and rapid agitation movement mimics panicking forage fish.
The previous Inventive Fishing Product Introduction is for informational purposes only. Inventive Fishing has not field-tested the product addressed here and, thus, neither endorses nor criticizes the product. For critical reviews of specific products, please see Inventive Fishing's Gear Reviews and Tech Reviews.














fish, Fishing, Fishing tackle, Lures, Mustad, Rat-L-Trap, Super Nova, Tackle
---
---