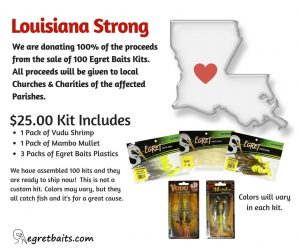 Egret Baits, makers of the incredible Vudu Shrimp, Vudu Mullet, and Mambo Mullet,  have put together a great program to help support victims of the recent Louisiana floods. Egret will donate 100% of all monies earned through the sales of their Louisiana Strong Kit to charities supporting those impacted by the recent floods.
The Louisiana Strong Kit includes:
1 Vudu Shrimp
1 Mambo Mullet
3 bags of Egret Soft Baits
Egret Baits has assembled 100 of these kits and they are ready to ship now for the low price of $25. (Note that the kits are not customize-able and that colors may vary).
We encourage all citizens of the Saltwater Nation to support this initiative. This is a great cause and these are some top-notch lures. Thanks to Egret Baits for their efforts in helping those Louisianans effected by the floods.
FISH ON!














Egret Baits, fish, Fishing, Fishing Lure, Fishing tackle, Louisiana, Louisiana Strong
---
---